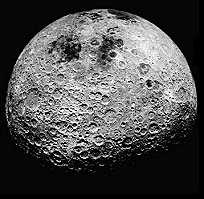 A Meteorite From The Moon!
Northwest Africa 482
This meteorite was found in the Sahara Desert in
early January 2001. The rock contains abundant shock-melted glass in the form of several large pockets and veins cutting through the sample. The recrystallized matrix and the clast population are both highly anorthosties, indicating a highland origin. Clast include isolated plagioclase crystals and lithic anorthosites, troctolites, and spinel troctolites. Kreep and mare lithologies are both absent. constraining the source area of NWA 482 to a highland terrain with little to no Kreep component, most likely on the far side of the Moon!